Probably the best known of the UK garages who specialised in modifying the Triumph TR7 was Grinnall. Many Grinnall examples still exist today and the TR Drivers Club have their own Grinnall Registrar. Grinnall not only upped the performance with a variety of v8 conversions but they also did some extreme body modifications. From a personal view point most of the modifications in the looks department leave me cold, the clamour for Grinnall's seems rather bizarre to me and not being a power freak I don't arriver unexpectedly when people start quoting bhp figures.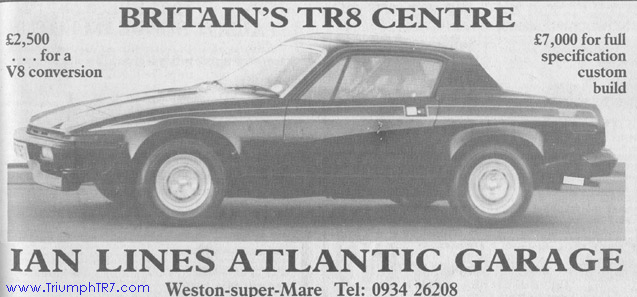 But Grinnall wasn't the only modifier out there. A chap, born in Mansfield, in 1942 set up shop at the Atlantic Garage on the sea front at Weston-Super-Mare with his name on the hoarding to give the business the full name of "Ian Lines Atlantic Garage". Ian is probably better known as 'Del' Lines - reknowed v8 specialist who started out with Triumph, briefly rallied in a Porshce before returning to Triumph and then moving on to the Rover SD1.
So what could 'Del' Lines do? In the early 80's he was already offering rear disk brake upgrades and 4-link rear axles. Tuning wise the standards were either 160bhp or a more pokey 300bhp with either modified 5spd manual boxes or the type 65 auto. Also on offer was a turbo conversion with a variety of exhaust systems. Other upgrades included electric windows and, unusually, mirrors too which would go nicely with Heated Front Screen... I don't know abouot other TR7's but TRisha's alternator struggles to keep up with radio, heated rear, blower, lights, and indicator if I'm just idling - I'm sure the heated front screen while playing with electric mirrors and doors would brake the camels back! Under development in 1981 was also a TR7 hatchback!
If anyone owns a Del Lines conversion or has any further information I'd be glad to hear from you! Ian Lines, now living in Spain, is still involved in the motoring world helping out as a technical resource for the SD1 club.