...Continued from First Page
We've done a short intro and have covered the obvious difference on the auto gearbox, so lets press on with....
The Ride
The DHC - TRickett TR - sits on big 205x15 rubber and is lowered 1" at the rear, giving the car a more hunched and aggressive stance. The larger diameter wheels, in my opinion, really suit the DHC - whereas the FHC, with it's more naturally retro looks, can appear as if it's trying too hard, for larger wheels on the FHC I'd expect to see flared arches and a competitive appearance to the vehicle.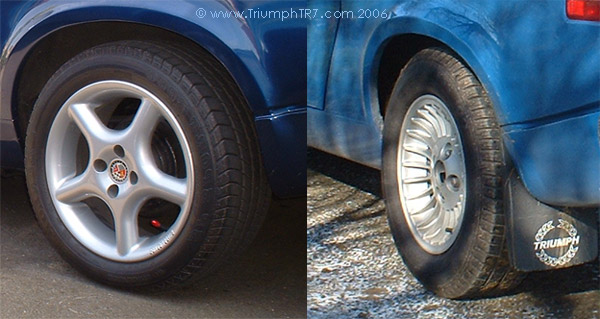 Before going anywhere in TRickett the bigger wheels announce themselves to the driver - they sort of jump up and wave a banner that screams the question "Do you want Power Steering?". The co-pilot, now fellow pilot, has junked her gym membership and goes for a drive in TRickett when needing an upper body workout. It really does make an immense different when rolling slowly (or not at all). Whether the small diameter TR8 steering wheel in the DHC contributes to this I can't really say.
The higher profile (larger sidewall) tyres, on TRisha, will flex when pushed, contributing to car movement but also absorbing more bumps than the low-profile 15"s on TRickett. What the bigger tyres lack in shock absorbance they make up for in providing a sure-footed platform, giving greater grip (in the dry); and the back-end is less likely to put Queen on the turntable blasting out 'I want to break free' with those big tyres in place.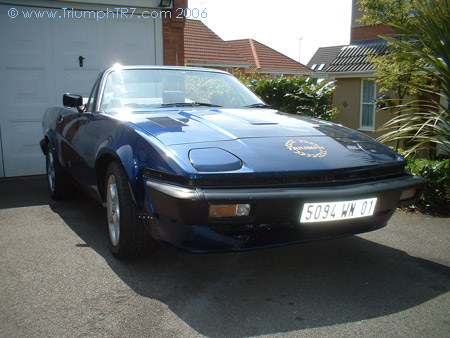 When it comes to the ride, in the DHC, I have to say "How much body flex?". Being a disciple of the Coupe I have never been too inclined toward the roadsters - The tin-topped TVRs are superior to the wind rush of the soft-tops and there's no decision to make between the Lotus Exige or Exise. In fact I've only ever been in three soft-tops, and two of those were Eunos' (MX5/Miata) for a short trip to a lunchtime pint, and the other in an MGB was that long ago I can remember so little. Ahhhh…. There was one more convertible - during a holiday in Lanzarote where we had a ludicrous, open tinned, Punto. I hang my head in shame - this was considered a 'free' upgrade from the Fiesta we had requested!!
As a driver in the DHC the flexing body can really be felt on those twisties and contributes to the exhaust bottoming out when pushing hard on mildly bumpy roads (the exhaust is v.low); as a passenger the movement between screen and door frame is mildly disconcerting initially. TRisha with a stronger shell feels taut, the rear skips more frequently and the suspension has to work harder as the car moves less when being chucked around. Personally I find TRisha more enjoyable on the country lanes, with TRickett standing up well when cruising on the better B-roads and quieter A-Roads…. Some of this is down to wanting to extend the life of the exhaust - seeing sparks bouncing down the road in your rear view is not what you want to see too often; though probably better than seeing Sparks in concert, continually repeating their one famous song.
Posing
'Posing'? It's not a common category when it comes car comparisons. But what can I say on Brakes? TRisha has uprated, vented, discs & larger callipers… she stops better. The engines are both the standard 2.0l and for performance TRisha is far hotter due to the manual box. But what about posing?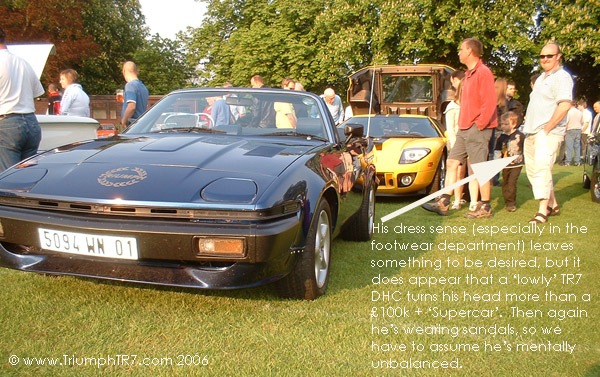 Well the DHC stands up to most modern hairdresser cars, the looks have aged well and - I think - the car does not look it's 25 years. This is helped, in TRickett's case, by the big MGF wheels and pearlescent paintwork - the car looks bigger than the FHC though I'm not sure why. With both cars having a Stainless Steel Exhaust & tubular manifold it is surprising to find that there's a big difference in sound. The exhaust on TRickett is modified from the original and it gives a very nice burble that some people (Triumph owners amongst them) have mistaken for a V8!! At the moment TRisha's tappety engine overwhelms her exhaust note - which is a quieter, but not unpleasant, bumble (not quite a burble!). The DHC wins on the note then, even when TRisha's tappets are sorted I think TRickett will have the better tune.
With the more 70's colour of a flatter Tahiti blue, being a FHC, and with those 13" wheels TRisha looks from a different era to the DHC. But which gets more looks? It's hard to say really. The neighbour's kids think both are 'cool'; which doesn't help swing it one way or t'other and we've yet to take both cars out together - rather shamefully an oncoming MX5 acknowledged me when in the DHC!! I assume he was confused, but that surely knocks a couple of points off Trickett and we'll have to give him a standing 8 count!
While TRickett was at Jigsaw Racing Services for an MOT and Tune-up he apparently received many appreciative comments, and Mark (the proprietor) thought it possibly the best DHC he has had; however TRisha also got many comments while at Jigsaw for a fleeting visit…. There may be a better indication when she goes in for those noisy tappets to be sorted & a tune-up.
For now I'll be biased and say TRisha gets slightly more looks - the older look possibly standing out more than 'another convertible'. Our home town - a market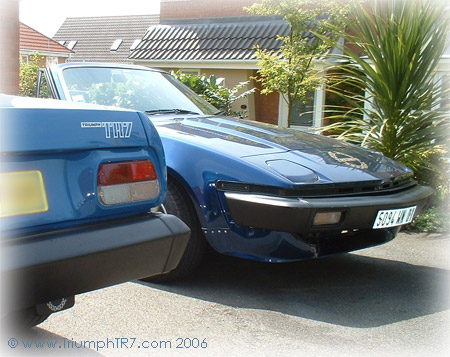 town in the shires - does attract a lot of auto-exotica, Aston's, TVR's, a smattering of Bentley Continentals, some German muck such as AMG's are all sighted with surprising frequency - obviously we'll not count those who have upgraded their Escort XR3i's (or Fiesta XR2's for the ladies) to the mundane and insipid Audi TT's as auto-erotica; though I'll extend the 'exotic' group to include Nissan's gorgeous 350Z (tin top obviously). Against such a back drop the TR7 attracts plenty of attention - and not just from nervous AA men expecting an imminent call! Some of the looks are curious, the older people look surprised but the younger generation appear to appreciate the looks of the car for what it is, unaware of the original build quality and negative press; their view is not tempered as is the case with the more cynical amongst us.
Summary
Well I'm biased - Coupe's are king. So go and buy a FHC, they are better... and you know this really. What I will say about TRickett - and it's a testament to the previous owner - is that it feels a very solid car, everything about it feels tight; even with the hood up there's surprisingly little wind noise. TRisha also feels solid and well fixed together, but the black plastic trim doesn't give the same feeling of solidity as the grey tones of TRickett - it's a strange perception and one that is in the mind more than anything else.
I wouldn't swap TRisha for a DHC - 16 years is a long time with one car and I see no reason to trade! The DHC doesn't make for as spirited a drive as the FHC, though it is good for a cruising and possibly an easier drive; neither would I be put off by an auto - the less chuckable nature of the convertible means the loss of performance doesn't bother me unduly. For a regular usage car though the auto is not an option - not unless the petrol price goes down like Didier Drogba* - whereas the 5 speed gearbox on the FHC does make daily commuting a viable option.
Remember these are just my opinions and I'm comparing one example of a five spd FHC against a single example of an automatic DHC… the v8 or Sprint alternatives did not come into the reckoning. If you have any views or comments please drop me a line…. But don't just say "the DHC isn't a hairdresser car" - it is, both Toni and Guy agreed! And anyway it is my site and my judgement is final!!
*For those who don't know the Chelski employee Didier Drogba is a fantastic, world class footballer, who is renowned for staying on his feet; even under extreme provocation from big burly, thuggish defenders. He's even been known to repel sniper attack from the Paratrooper who has infiltrated the press box. On the rare occasions he goes down though he goes down quickly, without fuss, there's no dramatic rolling around as if he's a skier caught in an avalanche! It's just 'bam' a silent 'ooh that hurt' and he sits on the turf awaiting the physio…. Well either that or he jumps up, waves an imaginary card in the air and says "Please Mr. Referee the nasty man nearly kicked my ankle, I implore you to send the dirty scoundrel off." So now you know.