Having completed my second Club Triumph Round Britain Run in October 2002, I remember sitting in the Plough at the end of the event commenting how great it had all been. It really felt as if I belonged to a club within a club that met once every two years. I also began to feel that I should do something for Club Triumph as well so that I could help keep tradition alive.
An opportunity arose in the October newsletter when the positions of Competition Secretary and Club Librarian became vacant. I spoke to Derek Pollock and took on Club Librarian, followed quickly by back issues officer. I then felt that I should attend a committee meeting and consequently undertook the 450-mile round trip one Monday night at the end of 2002.
The position of Competition Secretary had still not been filled so I volunteered for that too! It was at this meeting that I first ventured the question of a Round Europe Run. It was decided that a private proving run would be a good idea if I were willing to undertake it, which of course, I was! Tim Hunt and Tim Bancroft immediately volunteered to join me quickly followed by Ellis Stokes. In the January 2003 edition of Club Torque I introduced myself in the letters page and posed the questions "If it is possible to drive 2000 miles round Britain in 48 hours, is it possible to drive 2000 miles round Europe in 48 hours? I think it is and, if I am correct, is there anyone who would like to join me?"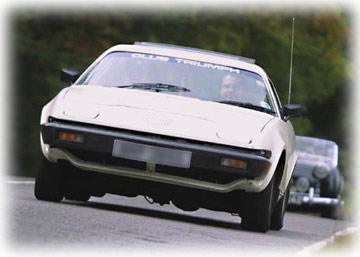 The route was put together over a few weeks around Christmas and January 2003 and a website started thanks to Dean Martin who had learned of the run from Ellis Stoke's website. As a result the event grew and grew until it came to fruition with 16 cars starting this low key, private proving run!
So, on Friday 5th September 15 cars left the Plough at about 1.30PM with car number1, my TR7 leading the way. 16 cars actually started as Dave Walker had set off from home to drive straight to Dover. I always had a suspicion that, despite all the e-mails and discussions, someone just might turn up at the Plough on the day - step forward Don Cook! Don had only decided the previous evening and had come along even though his co-driver was too ill to join him; imagine the thought of starting a 2000-mile drive through 10 countries in a GT6 without a co-driver! I donated a map book and wished Don good luck!
Of course, the cars were split up straight away but we reached Dover pretty much all together and got on an earlier ferry than we had planned. It was at this point that I called Ellis Stokes to let him know we were on an earlier ferry only to be told that his sprint engined TR7 had dropped a valve on the M25 and, despite other crews stopping to help, his run was already over. This was a real shame as Ellis had been one of the very first to sign up for the whole adventure and had been full of enthusiasm.
So, 1 down but still 15 cars on the ferry with the only other problems being over-heating (Quentin's Dolomite) and a binding rear brake (Barry McGrath's Acclaim). First stop in France was at Steenvoorde where Dean Martin joined us and waited for his car, Barry's Acclaim. Barry and Keith Bennett had stopped as soon as practicable in France to fix the binding rear brake, which they did, and then joined us all at Steenvoorde. Another crew joining here was Mike and Kate Sloan who had dropped off their camping trailer at St Omer which they would retrieve at the end of the run and then continue with a 2 week touring holiday! I believe there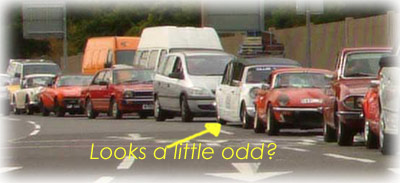 was a real air of trepidation amongst some crews at Steenvoorde as the implications sunk in, we were actually in another country with an overnight through northern France ahead of us before breakfast in a town no-one had visited and where no arrangements had been made!
As a result probably more time was spent here than was necessary but eventually the convoy set off south along the A25 for Lille and then A23 for Valenciennes. In the TR7 Mat and I were really starting to enjoy the run with the sunroof open, windows wound down and the CD playing some great music (only 60s, 70s and early 80s allowed!). It was around the south of Valenciennes that one of those moments happened that stay in one's memory for years to come - we had been playing a CD of 70s punk when "Nellie the Elephant" came on and, of course, was turned up very, very loud! The sound of "oo-----ooh Nellie the elephant packed her trunk" as we drove will stay with me for a long time; I am saving that track for the next time I drive by Valenciennes in a TR7!
We were then off of motorways and onto more minor roads and heading for Laon and Reims. Travelling at night in a group of Triumphs with music playing on the CD is certainly something I enjoy and there was plenty more to be done. A few stops were needed to see if we could help others who were having some problems such as Andy "NGK" Pearce who started replacing the first of many spark plugs around here. I am not sure that the residents of various road side houses would have been too pleased with 5 or 6 Triumphs pulling up and much chat and spanner work going on outside - at one point I expected to see the shutters being thrown back from a bedroom window and an old lady shouting at us like a scene from "Allo,Allo"! In future I must make sure that everyone knows the RBR rules concerning cars halted at the side of the road - bonnet up means stop and offer help, bonnet down means go away, I'm asleep!
Another element also became apparent now - the search for petrol stations open at midnight or later. We drove into Reims looking for fuel but no petrol station was open! We found a Shell station just south of town though, which has now been duly noted for future events. What the locals made of about 5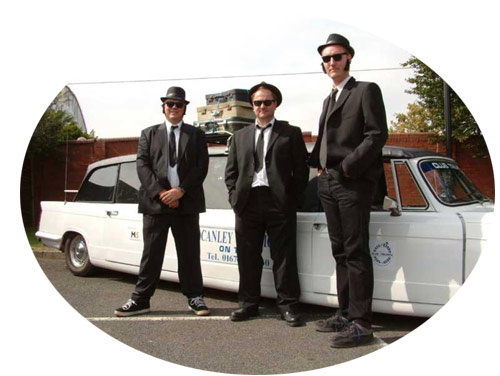 Triumphs on the forecourt including a 22" long Herald I don't know although Paul Darbyshire did come up to me and say he felt that we had confirmed to the French that the English are mad!
The next section was run in the early morning from Vitry-le-Francois to Dijon. The famous solo GT6 pilot, Don Cook, has said to me since that he thought this section was really funny with cars going in all directions rather like a French farce (how very appropriate). I think it was a bit more like the end of one of the Pink Panther films were different cars go through a town square and then keep coming back from different directions when, finally, a pantomime horse runs through the streets too! Vitry wasn't quite like that but this was probably the first town where we all noticed the peculiarities of French road signs - better scale maps are needed next time.
The roads were also a chance to give the cars their head a bit too and speeds generally started going up with some spirited driving. Andy Pearce was following us at the time and was entertained by showers of sparks from underneath the TR7 as the exhaust bottomed out (I have since found a very worn exhaust clamp that looks like it has been attacked by a grinder). It was also as we got closer to Dijon that I felt the TR twitch in a succession of bends and decided to back off a bit - this section is now marked on my map and in the 2005 roadbook (!) "extreme care".
Breakfast day 2 saw the crews in Louhans as marked on the map. Amazingly, there was a large car park available and a café able to serve ham and eggs to about 20 people - if I keep quiet people might think I had planned it that way.

The run down to Grenoble was fairly uneventful apart from some quite heavy rain which was a problem for us as the sunroof had broken and we had to try and keep it shut as best we could. This didn't stop rain pouring in to the car and onto our laps, unfortunately. The sun had returned by Grenoble, however, and the temperatures rose. It was also from here that the scenery became quite beautiful as we entered the mountains. There were 2 suggested routes, one towards Gap and then over the highest pass in Europe, the other one south to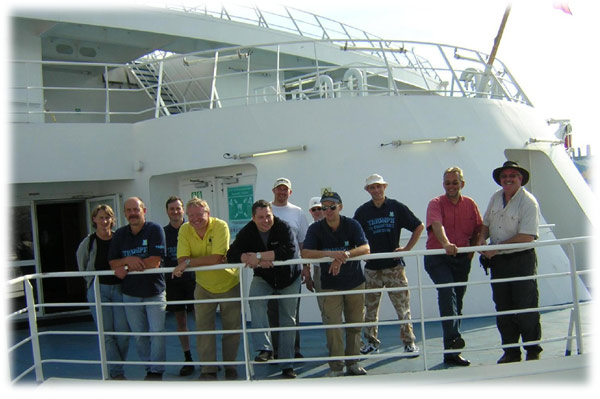 Sisteron and from there to Nice via Digne les Bains. Mat and I took the "wimps route" as I was concerned about the braking capabilities downhill of my TR but I can only say that the scenery and roads were superb. Winding roads, deep valleys, climbs, descents and large drops off the side of the roads were all to be seen and enjoyed although after about 100 miles of this even I was pleased to see Nice.
The group was split into 2 hotels which was a shame but at ours the car park quickly looked like a scene from a 60s Monte Carlo rally service area with work and maintenance being carried out on a TR4A, a 2000, a 2500 and GT6. As for us, we were feeling quite smug as I wandered around trying to be helpful to others and complaining how tiresome it was to have to keep swapping CDs in the TR7! I should have known pride comes before a fall.
Unfortunately, Quentin had to call it a day at this point with his over-heating Dolomite. He and Mark, his co-driver, then had quite an adventure in itself getting home which I hope he will write up in an article for Club Torque.
An evening meal was then greatly enjoyed and Mat and I were forced to stay up in the bar by the crew of the "white tornado", Andy and Sarah Johnson - I admit I was lead astray but can only say that I am still young and foolish after all! We also had the chance to check the website here and read all the messages we had been posting from our phones - who knows what technology will be able to do next.
And so ended the first half of the 10CR - and only 2 countries visited! See the next Club Torque for the other 8 countries.
Now - that should have inspired some of you to want to try out this kind of thing. I recommend entering the 2004 Round Britain Run first, it's a cracking event and great experience for the 2005 10CR! The entry from will be elsewhere in this edition of Club Torque, but by the time you read this, I will have filled it in and been to the post box - can I get car number 1?
Part Two is will be here shortly....
Are you inspired to take part in the 10 Countries Run 2005? If you like to drive your Triumph then Club Triumph is 'The Club That Does'.