"Frosts to Anglers Rest"
Triumph TR7.com - Bedfordshire
This run came about after forum member Gordon Kerr 'floated' an idea on the events forum about having a drive around Bedfordshire. It quickly transpired that members of Club Triumph would be in Bedford in August for an Autotest and could the convoy run be arranged to coincide with them finishing the tests, as some members were camping over the start and end points were defined. All that was left was for Gordon to plan a route, and ensuring that the start point served reasonably priced nosh!

As it was the wet weather in the week leading to 28th August meant the cancellation of the autotest (on grass); but everyone was keen to do the run. We met at lunchtime at Frosts Garden Centre, Willington, on the A603 under grey skies. Three TR7's (remarkably all FHCs), two GT6's and one each of a Spitfire and a TR4a, all different colours which made for a nice line-up in the carpark.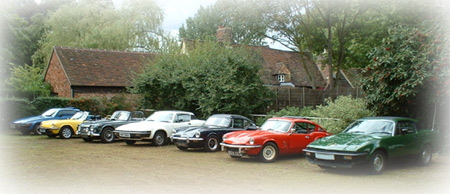 It seemed that someone had told Raider that we were doing this in fancy dress. It was a close call whether he was dressed as the legendary TR7 rally pilot Tony Pond or whether he was in fact there as a 1970's porn star! I think, with the coveralls, we were able to give him the benefit of the doubt, but with a zip which kept getting lower the doubt was always there!

And we were already one car down - after tracking down Malcolm's phone number we found out that he had experienced troubles that morning and was working on his car with a view to joining us later.... Malcolm had a drive of about 1hr to the general location of the route. Gordon had planned a journey a around 40miles and the direction came complete with Tulips... top job Gordon and certainly sets the standard for future runs. So who was going to lead the way? With a distinct lack of hands it was down to route planner in his Green FHC.

It was advised that we should set the trip mileage, so that should we get lost we'd have a better idea of where we were... hmmm I think most of the cars lacked a serviceable tip on the dash, so that idea was scuppered. I was sandwiched between Steve's yellow Spitfire, which with it's twin-exit exhaust sounded rather sweet, and Tim's GT6. I was later to discover that the yellow paint, which I much admired, wasn't Inca (the travesty) but instead was something like 'Algerian Ambulance Yellow'!! Steve works for Aston Martin and went through a truckload of yellow chips to determine the particular shade on his car! I have to say that in watching the car in front and behind I don't remember much about the early run, save to say we were on some stonking roads which, should you be on your own, would provide some fun at speeds.

The stop-off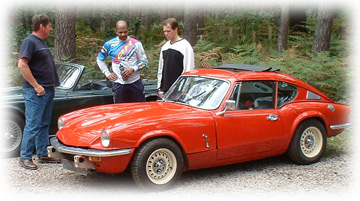 was to be Rowney Warren - a forested area beloved of Off-road cyclists. The car-park is not one huge area, instead it is split into many smaller areas which allowed us to comandeer one for ourselves. Shortly after arriving Gordon headed off to meet Martyn (in a Tr7v8 DHC) who was late for the start but was now in the area. Meanwhile the rest of us chatted and had a look over the cars. Soon we were joined by two keen MTBers who had just completed an off-road ride of over 8miles. Both were interested in the cars and spent some considerable time chatting to us and looking over each car.... and did a good job in persuading me to take my MTB down to the area (not in TRisha I hasten to add) in the future. Other interested parties came to have a look to - even if one chap mistook the TR4a for a TR6! In due course Gordon arrived with Martyn in tow... and so after 3 TR7 FHC's with standard 2.0l engines we now has an opposite extreme - a TR7 DHC with a 3.9l v8!

Exiting the carpark needed care... loose stones under the rear wheels - too much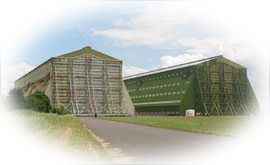 gas might annoy the car behind! We had now changed formation with the 4 TR7's to the fore. The rest of the run took us across some lovely countryside with some great view of Bedfordshire. This took us passed the Cardington Airship hangers; these are truly impressive buildings and are now subject to a protection order. The huge airships of the 1920's and 30's were built here - including the Vickers R101 which came down in France, killing around 50 people. One of them now houses a six storey building for Fire Research purposes and I believe the other houses new airship development.... Don't ask me which one but one of these was used for the filming of Batman - which included the huge Batcave set.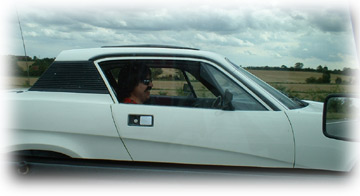 The map includedspeed camera warnings but being angelic, responsible people we'd never break the speed limit, nor would anyone be as irresponsible as to pull alongside Tony Pond/Pornstar to take a photo while driving along a dual carriageway at 70mph! (Especially with a police van coming along behind!). And no one would be daft enough to take a phot of the view out ofthe rear window!! Which if it was taken would show Martyn (TR7 3.9v8), Doug (GT6), Steve (Spitfire) and Jim (TR4a).

Some of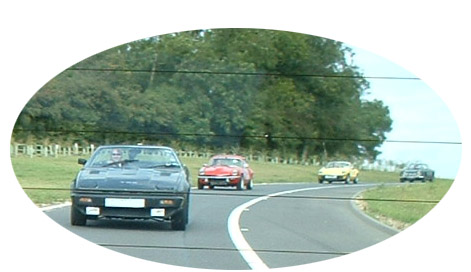 the villages we travelled through we verypicturesque, thatched roofs and what looked to be very inviting Publis Houses! Pavenham was certainly one such village that I may detour to if I'm nearby in the future!

All too soon and without incident we arrived at The Anglers Rest, just off the A6, where some of the guys would be camping over. With somewhat poor timing we arrived just after most of a wedding party - had it not been for a couple of horses and a rather slow moving Fiat Panda we may have got there just before them. As it was it meant that we were strewn along the road rather than comandeering an area for 'Triumph' parking. Having erected the tents and one Dog Kennel (Tim!) it was to the bar for a much needed bevvie. We hadn't been there long when Malcolm (remember he was working on his car when we initially set off) arrived, taking the TR7v8 DHC count up to 2. Though he got there his car was not running right and the sound was a 'rather concerning' noise coming from the engine. Hopefully the forums will help find a resolution.

All in all a great day out and hopefully the first of many as everyone seemed keen to do more of this sort of thing... getting the cars out there and on the road. Certainly if the reaction at the Rowney Warren was anything to go by we can help these marques by using the cars rather than leaving them in the garage or on the drive!

Hats off to Gordon!
More pictures can be found in the Gallery,