Every month - that is 12 times per annum - the little village of Ashby Folville in North-East Leicestershire, hosts a massive car meeting - classics, vintage, motorbikes, supercars, sports cars, modified and Japanese Imports are all represented. It is without doubt a great gathering. During the summer months in-excess of 4000 people descend, to view hundreds of show cars. If you can get there do - the event is every 2nd Tuesday of the month, but be warned.... it gets busy!
After the gorgeous Spring evening back in May the weather was looking good again for June's gathering at Ashby Folville (NE Leicestershire), but alas the vagaries of British weather and the guesswork forecasting of the professionals saw the clouds come over, resulting in a steady downpour for virtually the entire day. "Cloudy with long periods of sunshine" Hmmmm our forecasters seem as bad as ever.
In May it was only TRickett (1981 Solihull Triumph TR7 DHC) who went along from our stable of cars that could be classed as show cars (obviously there's TRisha and we also have a Japanese import in the Mitsubishi FTO Mivec). TRickett, having arrived just a week earlier was still on his French plates, and with the co-pilot away on business I could only take the one car and TRisha TR (1976 Speke built Triumph TR7 FHC) was over in Coventry for an MOT and some known issues being sorted.
So into June and This time, with the co-pilot in the UK, both TRisha & Trickett were taken to the gathering of Classic Cars, and 'interesting' vehicles; taking both cars was slightly Harold & Hilda but hey so what? TRickett was now back on his original UK registration and also getting properly wet for the first time in a few years. With the inclement weather we didn't expect such a turnout but we were pleasantly surprised. Sure - arriving at around 18:15 - numbers were down, leading to 'normal' cars being allowed into the show field but the cars kept arriving and the numbers crept up.
An American car club had arranged an outing, resulting in some large chunks of metal being present - Hemi's were ten a penny and dwarfed the old British classics. There was a gaggle of VW Golf's - one of which had had the barry-boy treatment and looked as ridiculous as Vince Neil (or any other member of Motley Crue) would today if he walked into your local with all the big hair and spandex! Initially I thought 'how sad, a bunch of old Golf's' … then realised that the newest of them was about 16yrs old, and thus probably justified it's inclusion - maybe it's because there's so many of them around still that I don't consider it worthy of being at these shows!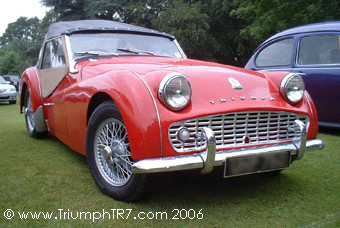 What was evident was that the Triumph Stag owners seem to be averse to the wet stuff, the previous month the Stag was possibly the most common single model, this month the Triumph TR7's outnumbered them…. And there was only TRisha TR & TRickett TR representing the TR7/8. Another wedge was a splendid TVR 390i belonging to Blane (apologies if I have your name spelt incorrectly) - I was looking at the car and commenting to the no-longer-a-co-pilot that "This is definitely the one I saw broken down in Hinckley last week" when the owner appeared…. And confirmed that he had indeed needed the recovery services. We had a good chat - mainly about what a joy 'proper cars' were; his car was a splendid example, just a shame that his TVR was surrounded by more mundane vehicles - a late arrival meanthe was surrounded by the early 'normal' cars.
Ashby Folville does attract a wide spectrum of people - it's not purely the car enthusiasts (with their beards and bad dress sense) or the motorcyclist (with their mid-life crisis belly protruding from their leathers) who turn out; whole families and many younger people, also wander around the cars. The 'star' for June had to be young Benjamin Hamilton (pictured) - we overheard him talking about the cars and suggesting valuations to his Mother. After he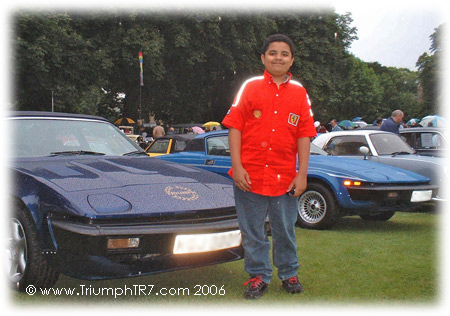 commented on TRickett I thought I'd have a word with him, and ask him what his valuation of the car was. Considering the car rolled off the factory about 17yrs before Ben was born he could be excused a wild one. Indeed his first stab was a bit wide of the mark, but he got it spot on second time around - agreeing with both an independent evaluation as well as mine. I told him that it was one of the last ones built, coming out of the Solihull plant, with only appox 1000 more following it off the line before production ceased…. "yes because BL were going through a bad time weren't they?" was Ben's comment! Obviously he does his research and knows his cars and it was great to see someone so young who was genuinely interested in the vehicles at the gathering.
I think it's true to say that the meeting at Ashby Folville is probably the most diverse collection of vehicles that you will see outside of the big one-off events….. this is monthly, on the 2nd Tuesday, so get down there! See some more pics here!