The TR Register International Weekend is one of the biggest Triumph events in the calendar - and I've never been! To be honest I'd feel a bit of a fraud not being a member and the location is not as convenient as the TR Drivers event. But this year a few things combined to encourage me to attend - the most significant factor being that TRisha is actually on the road! Since TRisha came out of a 4 year hibernation in 2000 the excuses are, in chronological order: on holiday; having new uprated brakes and suspension fitted; having a recon engine dropped in; being restored. Valid excuses one and all. Anyway this year I was able to attend - albeit just for one day.
With the usual weekend commitments attendance over two days would be tricky. That being the case the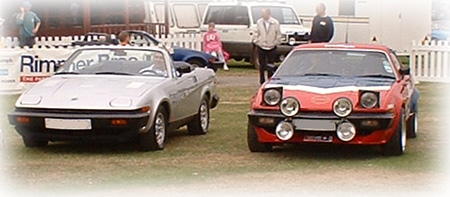 co-pilot and I took the 194mile round trip on Sunday - keeping our fingers crossed that the good weather would hold. And it did!!! Well right up to the point of arriving at the showground. Literally as we arrived at the gate the rain came down - could have been worse, had it started earlier we'd have had to pull over as shutting the sunroof at anything above 20mph is impossible (still it's not as bad as a DHC!). Entrance fee, at £13 per person, is rather steep thankfully my Club Triumph membership card was clearly visible in my wallet and the guy on the gate let us in at Members price - a reduction of £4 each.
So how many cars? Lots. I quickly realised that the co-pilot and I didn't have enough digits between us to keep track of all the cars. With that amount of vehicles there was obviously going to be a wide array when it came to condition - there were some high quality cars, many a tidy example, and a few in need of TLC (none though matching TRisha's condition of 2003!!!). What was surprising was that only 1 of the TR7/8s in the concours hall was a FHC... I don't know which car won, but if I had a vote that would have got mine!. The FHC in question was black with silver decals (same as TRisha), I am lead to believe that it is a genuine Premium edition. The owners have given the rear deck the same treatment as TRisha - ie raising it to the level of the wings, thus removing the water trap.
It was great to run into so many familiar faces - and finding out the truth behind the soaking that Malcolm's DHC received in between the TR Drivers event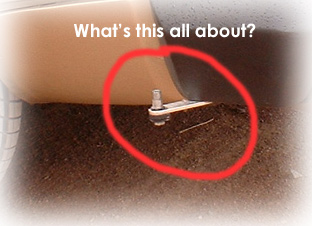 and this weekend! We did arrive in time to see a collection of Grinnall's in the parade ring - the SD1 rear lights really are an acquired taste though! Also in the parade ring was surely the most expensive paint job in the world! I have contacted the Guinness Book of Records with regard to the matter. Some chap was trying to sell his light metallic blue TR6. Apparently this vehicle had over 180 horses on tap, though the owner seemed sketchy about the origin and size of the engine. But the paint? Well he wanted a staggering £22,000 for the car (generously he would accept £20,000). Now I will say the vehicle looked in fantastic condition, even if I felt the colour really didn't suit. But the colour? Come on you said the paint was expensive!! So how much would you pay for a paint job? From a distance of 10 yards the paint didn't look like gold-leaf, and the colour of baby metallic blue would suggest that it wasn't gold-leaf... but what else could it be for £8,000? Yes EIGHT GRAND!! How much? Eight, that is eight, thousand pounds. Excuse me for being sceptical! For £20k, rather than buying his car, you could buy a very tidy TR6 and have it tuned up, and sprayed to your taste and still have money left to take yourself and your other half to Barbados for two weeks. So did I get a photo? Errr no - my camera has difficulties when trying to focus on non-TR7 items!
Malcolm and Sue were trying to persuade the co-pilot and I to stay over next year - but we'd have to camp. "It's great unless you have a strong aversion to camping" said Sue - well the co-pilot has a strong aversion! We may well take the S+S Preparation route and go for the weekend but stay over at a nearby hotel... or is that cheating?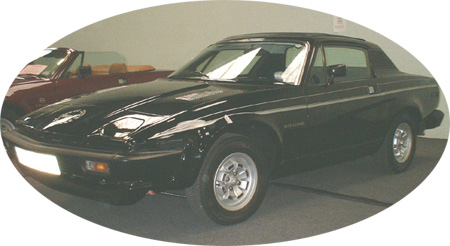 It was a great shame that the rain fell for most of the day, however it was a top event with plenty going on and a good range of cars. With the amount of vehicles in attendance the parking had to be organised to make use of all available space - which meant it wasn't always easy to get nice clear photo's (especially with limited photography skills!). We certainly hope to be along next year - well it's 30years of the TR7 isn't it? So for those with an early FHC (even though TRisha is 1976) attendance at all shows must surely be mandatory!
Thanks to the TR-Register and Triumph World magazine for a great event, to Malc who helped persuade me to attend and big thanks to the co-pilot for splendid co-pilot navigational duties!