The TR7/8 is a strange beast - you tend to love or hate them... you are obviously a little fond of the last TR, otherwise you would not be here. And if you have the yearning then the little wedge can gnaw away at you. Each one you see for sale calls out "buy me, go on you know you want to. I'm worth it, really I am." and eventually you succumb. Dave had this 23 year dream....


On 8 October 2003 I embarked on a journey that will long be remembered by me.

At 0400 My wife and I left home for the Nashville airport, I had to be there two hours early because I had purchesed e-tickets and airport security is much diferent than the last time I flew. My flight was uneventful from Nashville TN to Pittsburgh Pa as was the flight to Bradford Pa, but when we were making the approch I noticed SNOW falling. The pilot said it was 22 degrees Fahrenheit (-5c). I could hardley wait to see the Triumph TR8 that I was about to adopt! She would be the third Triumph for me, her sisters were a 1960 TR3 and a 1980 TR7.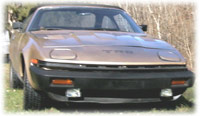 I met the care giver and after the necessary niceties he escorted me to the parking lot and introduced us to each other. There she sat in her beautiful gold coat just waiting for me. The care giver told me of all her little tricks like, she does not like to start and you must do this and that before she'll purr!

He signed the adoption papers and my little girl and I took off for a 876 mile trip. She had only seen 63827 miles in her life. I trusted that all the things told were true and that she would be the perfect lady. About 356 miles into the trip the radio went out but that just allowed me to listen to her purr! Another 322 miles later (after 678 miles) into the trip the temp gauge start to climb. Continuing past the mark that I felt safe with, I pulled into the next station I could find and opened the bonnet to let her cool off. After a wait I opened the radiator and found it wanting! I added the nescessary fluid - I had to do this several times but so what? It gave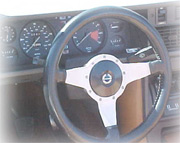 me the chance to show off to all the kids (28 to 35+). "What kind is that?", "What is under the hood (bonnet)?". Being the proud father that I am I was glad to show them. I heard alot of "Man I would love to have one of those!", "how fast is it",and "it looks to new to be 23 years old".

My love for her grew at each mile we made; I found that the hose had a small hole in it and vowed to fix it as soon as we got home and I will - right after I go to every parts house and service station and ask for the proper hose. I know no one will have it but it will give me the chance to show her off some more! When we reached Tennessee the temp was in the high 70's (24-30c). You guessed it..... the top (hood) came down and I could hear all the beautiful music the 3.5 engine could sing.

Needless to say everything the care giver said was true and I now have my 23 year dream!

jack1i (Dave) - Proud owner of 1980 TR8