TRisha TR, who is the inspiration behind this website and my pseudonym on various TR forums, was originally plain old Truhh (TR). The name TRisha was not bestowed upon her until the 15th month of ownership when I met the girl who is now my wife. I have now owned TRisha since June 1990, the first car I'd ever bought at a youthful 20 years of age!

This story details the 13years of ownership up to the point of restoration #2 - which stared in July 2003. So please check back for regular updates!

The Story In A Nutshell...
TRisha, an awful Pageant blue, with tatty interior, ropey sounding engine and an old dish rag for a filler cap was mine from the moment I saw the

'For Sale' sign propped in the rear window. Some 13 years on the car has more holes in than it did then - but it's in its original plumage of Tahiti blue (with rust effect). However with over 8000 miles clocked in the last 12 months it's running somewhat better than it did all those years ago. Those 13 years have seen some changes, many frustrations and more than a few breakdowns! The car was given an extensive restoration during the winter of 1991/92 and was kept in pristine condition - garaged over the winters - until 1995. Due to the onset of a first mortgage and the need for a reliable car TRisha was laid up….. and sat rotting outside from 1996 to November 1999. The car emerged in May 2000 to the thunderous applause of the expectant public (well me and the wife), some 5000 miles, 12 months and uprated front brakes later it was once again into the garage for more remedial works. TRisha re-emerged again in January 2002 for a brief fling before some serious engine problems (very!) in April once again saw her in the pits. One reconditioned engine and 2.5 months later she was back on the road. Since July 2002 it's been pretty smooth running and that's where we're at now. Please read on for part one of the TRisha story.

Across a Weed Riddled Drive our Eyes Did Meet
Yes they did actually pop-up (TRisha's not mine)!! I've always liked TR7's, as a mere scrote of a boy - aged 7 and a bit - I thought the car was the dog's proverbials! The first one I saw was in a squint inducing shade of bright yellow, at that age reliability was a word we'd yet to come across in spelling tests, so meant very little. The car was cool, and after a brief appearance in The Professionals the seed of 'must own one' was planted ! I remember hoping that the car would still be in production when I got around to passing my driving test (Some hope hey British Leyland? What did we have then….. Maestro's and Montego's - hmmm thanks). The first time I got to go in one, and actually the only time I've ever been a passenger in a TR7, was sitting on someone's knee as a neighbour took me to an end-of-season Division Two game (that's old money division 2 - and for our American friends I'm talking 'Football'). Leicester City won 2-0 at home (and Leicester wins are as common as TR7s these days) - I thought it was against Chester, but apparently Chester were playing park football in those days!!

So how did I get the car? At the time my preferred mode of transport to work was by pushbike - I had 3 choices: bus, pushbike, or walk. No contest. Anyway as I peddled back home there on a drive way, just 500 yard from my front door, sat this R-reg TR7, a bit rusty and a yucky blue. £700. A friend's Dad looked it over for me, as what I knew about cars wouldn't challenge the mental capacity of a goldfish - he pronounced it poorly, very poorly, thrashed and generally very, very poorly. He gave me a rough account of what would need doing to get it running well and advised me to get a sensible first car like an Escort. A couple of days later and £450 lighter I'd bought my first car - and it wasn't an Escort!! And so I became the 5th (and last) owner of this 1976 Speke built Triumph TR7 Fixed Head! What did seem quite unfair was that this, undesirable, car weighed in at the Insurance Group 7 (the highest at the time)!! Which meant the premium came in at a hefty £600 - and that was basic third party! Not even fire and theft! And with a rag as a filler cap, fire was a distinct possibility.

I took Truhh (as it was then) over to a friend of my Dad's for a proper inspection and report. And spluttered as much as the car at his findings! Miraculously, a couple of months later, some magic had been worked and for around £150 the engine sounded many times better. The car leaked oil (as all good TR's do!) and water through the sunroof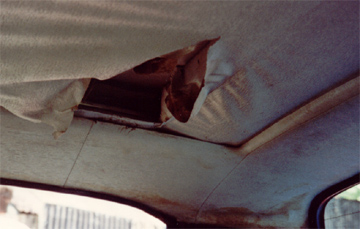 but was fun. I was hooked - this car quickly became part of me (and briefly part of an Escort, which had stopped unexpectedly, - allowing TRisha to meet his tow bar). Yes TRugh had become TRisha - and it was thanks to the car that I met my wife (we married 8 years later); My eventual wife was delivering something for a charity event and I happened to be washing my tatty blue sports car, so if it wasn't for the car we may never have met….. it gives me ample reason to keep the car don't you think?

In that first year and a bit the car had, somewhat surprisingly, proved to be pretty reliable…. Except if it was asked to head South (!!) for some strange reason this TR and travel South of Leicester didn't seem to mix. Some of the incidents that occurred, before the restoration, included:
Electrical fire (parked outside of work so correct extinguisher was at hand!)
Fuel pump failure
Snapped steering column (broke pulling out of a parking space so I guess I got lucky!)
Viscouse fan falling off at 85mph on a motorway
Broken throttle cable
But it was on a fateful journey to Aylesbury that the car filled with fumes and lead to a full restoration. The cause was damaged Piston rings and a few months on the sidelines was the only cure. And if I was doing that why not get the bodywork and interior sorted too?

Part Two of the story will follow shortly....