The best way to promote the Triumph TR7 and to encourage more people to explore the potential of these cars is to get out on the roads and use them. That is pretty obvious really.
If you've got a TR7 or TR7v8 the chances are you've realised what great value these cars are, but how do we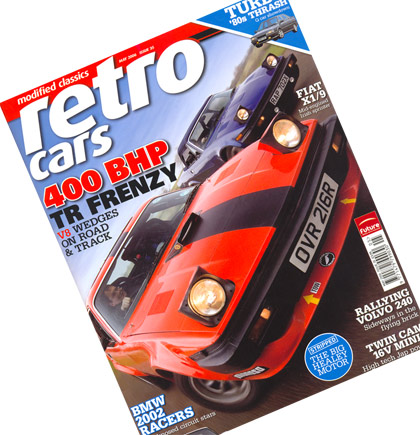 advertise that? Tempting more people into the Wedge World can only be a good thing, otherwise we'll see more people owning multiple TR7's but that will mean less actual owners. We therefore need the media.
To this end Retro Cars have done more than most to entice people into the TR7 - the nature of the magazine is for modified classics... and probably appeals to the younger driver; why spend £1000's on the Citroen Saxo when less expenditure can get a well-sorted v8 growler - and the kudos of being distinctly non-sheep!
The May 2006 edition see's a good feature on the two Triumph TR7 v8's owned by Malcolm Paris (TR7 Registrar for the TR Register); one of which was built for Hill Climbing competition, by the previous owner, and is used by Malcolm on track days. With it's single exit exhaust it can safely be considered as loud.... almost too loud for the track-day scrutineers which put all cars to the noise test. The other is a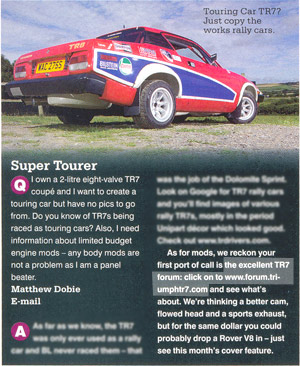 little more refined - I'm sure you'll twig which is which. The same edition also gives the forum for this website a mention - a big thankyou to allthe contributors which make it the success it is.
Retro Cars has a track record of featuring the TR7 - back in November 2005 there was a buying guide, a month later it was a Rally spec TR7v8 and John Eggerton's superb FHC has also been featured.
There's more than just Retro Cars though - we've covered some previous articles, and won't go over the old ground - Classic Car Mart for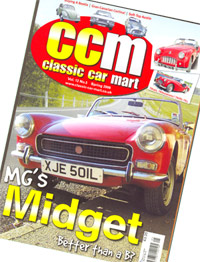 Spring 2006 has a 'Six Classic Triumphs'; one of which is the TR7 (well it'd have to be wouldn't it, else we'd not have mentioned it). It's only a one-pager, but it is a mention and one that is objective - referring to our cars as a 'Seventies design classic'.
We'll try to keep you posted on other articles that we know of - please don't ask for scans/photo copies as we will not send them out.... apart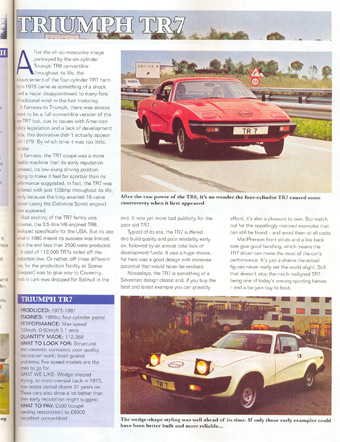 from the legalities such action would hardly encourage future mentions for these cars would it? What I can say though is that you can normally browse the magazines in a newsagent for quite sometime before getting thrown out! Certainly in the UK there's a well known 'library' in virtually every city centre....
You can visit the Classic Car Mart website or contact them for a back issue. Try e-mailing them at magazines@themagazineman.co.uk; telephone 01270 878 080. Each mag' is will set you back £3.95
For Retro Cars have a butchers at their online presence; or call them on 0870 837 4773 (overseas on +44 1858 438795), back issues are £4.95 UK, £6.95 Europe and £7.95 ROW.
You can contact use through this e-mail address - if you are aware of any recent or upcoming features.