An exception to the rule here.... As you may be aware "Cars For Sale" appear only on our Forum as a rule. However this delightful Triumph TR7 DHC, from the Solihull era of TR7 production, is one of ours, and thus - as I make the rules around here - I'll advertise 'him' on the website.

The car in question is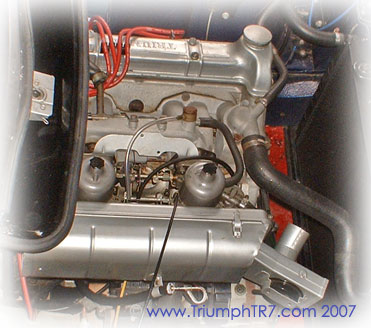 'TRickett TR' a 1981 RHD Automatic convertible. The car came off the line about 1000 from the end of the production run, as a manual - being converted to automatic transmission in the late 1990's. The conversion was professionally done, using the borg-warner auto box as used in the factory automatics.

Following an extensive restoration, to an extremely high standard, the car was taken across to the South of France where it resided for 5 years and was exposed to a dry-use-only lifestyle. Importing the car, and registering the car on French license plates, was a lengthy process as 'type approval' was required from MG-Rover. All documentation from this process has been retained - giving you an opportunity to brush up on your French linguistic skills.

TRickett TR is finished in Rover Tahiti Pearl which gives the car a superb blue/purple pearlescent finish that has been much remarked upon. A few other features are:
15" Alloy wheels (no scuffs, and good tyres)
Stainless Steel exhaust
Kenlowe Fan
Blue Mohair Hood (no tears or splits) with Tonneau cover
Lowering springs (rear)
Halogen headlamps
TR8 Steering Wheel
10 CD Auto changer
Underneath this TR7 is completely solid - well protected from rust and is certainly one of the best I have seen. If the exhaust not is not enough for you TRickett has a six speaker (two tweeters) 10 CD Autochanger in the way of ICE... with steering column mounted controls. The boot is also fully lined & carpetted - I wouldn't mind that in TRisha. The standard bit that you will probably be interested in include:
2.0l standard engine
Electrics all functioning correctly
Blue tartan interior
Boot is fully lined
New radiator (& throttle cable... obviously not connected!!!)
Unique gear selector!
Fully lined boot
TRickett TR is not concours, but he's not far off and it wouldn't take a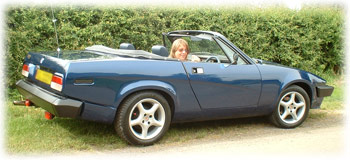 great deal (IMO) to take him there. There are a few niggles but nothing major - such as some scuffs to the rear sill caused by a tie holding the car on re-importing into the UK; also the haudralic boot stays have not been fitted - I think I have two of these, so they may be in place shortly. The paint is in very good condition and looks stunning, it's a very deep colour and was obviously wasted on the Rover MGF!! Possibly the most annoying thing is that the bootlid sticker is a Triumph Motorcycle one - if I was to retain the car I'd remove this and replace with the correct markings - the other badges are also not consistent with a Solihull car (the bonnet is a laurel leaf motif - Canley, and the '2.0 litre' markers for the front wings aren't present either.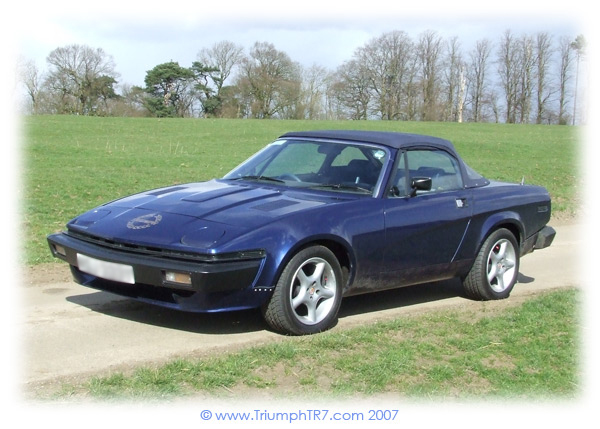 The car will be MOT'd (expires in May 07) and the Tax runs until the end of July. It really is a reluctant sale due to a change of circumstances... TRickett TR belongs to the co-pilot and she'll not be using the car much this 'season' or for the year after, and it's too good a vehicle to have sitting in the garage. One of our two TR7's has to go and it comes down to me preferring FHCs (oh and the fact that having owned TRisha - the FHC - for 17years now, she is almost part of the furniture - selling her would be like cutting my arm off!)

If you're interested please contact me via e-mail (sorry I won't publish my phone number on the net!). There's plenty more pictures in the Photo Album.